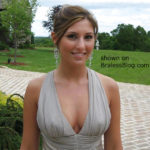 Yep, just one photo.
Sometimes that's all we need, isn't it? One really great photo.
And frankly, this one says it all.
Let's go through this one in excruciating, perverted detail shall we:
-Beautiful landscape, with lush green grass and a clean patio.
– Gorgeous and I do mean gorgeous babe.
– A smile that says "I'm pretty naughty, and if you're really lucky you'll find out soon".
– Some dangly earrings that hopefully aren't heavy. I don't like it when women get older, and they've worn heavy earrings their whole life, and their earholes get all stretched out. Gross. I realize those young whippersnappers these days are sticking things in their earholes to purposely stretch them out progressively over time.
– Fantastic freaking cleavage. Are those fake boobs? I mean, I would think not but the inner cleavage looks suspiciously, near-perfectly round. Regardless, awesome.
– A hint of nipple. Maybe more than a hint. Don't lie, you've already spotted this. Her nipples appear quite protrusive. That's my new bralessblog word for they stick out. Hard to really cover those things up when you're wearing a silky dress like this.
– Perfect skin tone. I mean perfect. Has this photo been photoshopped? I mean, I didn't do it and I wouldn't think whoever casually snapped the photo and posted it would have. Do you see a single freckle or mole on her yummy tan skin? I sure don't.
– Now if you're like me, and thank god if you aren't, you are also thinking about what this photo implies. Like backless. I bet you can see an arousing slice of skin around back. And also panties. Think she's wearing any? I do. But I bet they are black, and tiny, and probably a little moist.
I have always adored women in dresses. What's that you say? I adore all women? Well yeah, I guess I am an equal opportunity pervert in that way.
I actually posted a fairly popular "dress" post back in December. You can find it here:
http://www.bralessblog.com/2016/12/21/tight-dress-pokies.html
There are a couple of photos there that I don't mind revisiting from time to time. They bring a smile to my face and a bulge to my johnson.
But THE dress photo that all men past the age of puberty on the entire planet should see is right here. You should make sure you are reclining or at least in a sitting position before you click on that. Also, have a cold shower ready.
Not to muck up a solid 1-photo post, but I am working on another video. Youtube hasn't shut us down yet, possibly because you kind folks keep thumbing up my videos and keeping them popular. Give me a few days and I'll post up some more braless goodness.