Yep, it's Summertime. And wherever you are, dear reader, I live right here in the US of A. Regardless of the current political climate or administration, one thing never changes and that's arousing summer boobs.
I picked these photos out because that's precisely what they remind me of.
Now yes, it's possible to get a little gross with cleavage sweat and cheese smell. But clearly, when you look at these excellent examples, we have nothing to worry about.
In fact, about the only smell to worry about with babe number one is chlorine coochie. Yep, that's a real thing, and nope you won't find it on google. I mostly just now made it up. But having experienced it firsthand, I can tell you to be careful. I had a girlfriend awhile back who had all of her teeth and real-life boobies. One time after we went swimming in a pool, she strongly encouraged me to put my face between her legs. I of course helped her out, but there was a problem. Tha' cooch smelled like chlorine. Something about the female anatomy and a swimming pool tends to invite the absorption of chlorine. I thought I was going to faint. Luckily, I was able to finish the job. I'm not necessarily saying this hot blonde has the stank, but it's possible. Oh, one more thing to worry about. What the heck does she have written on her arm? I know, I know – I should quit distracting you from those wonderful pokie nipples.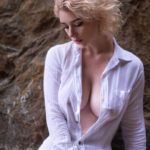 While we're on the blonde topic, holy mackerel at the cleavage on this blonde. Her boobs have just enough droop to them to convince me that they are all natural. Not that I would discriminate, just saying. The fact that she has this much cleavage even though she has natural boobs, and no bra squeezing the girls up into the rare air, tells me they are quite large and ready to rumble. She looks beautiful, and those nipples look like they would be something to contend with. Possibly eye-poking. Imagine taking her on a summer lunchtime date. She would sit across from you with that shirt unbuttoned all they way down to her waist, with those magnificent boobs on display, and every virile man and women in sight would stop and stare. And then she would whisper to you… "Are you paying?" And you would smile and wink and say "I forgot my wallet."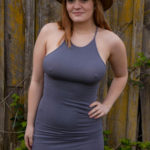 I will freely admit that gal number three is not the stunner that the first two gals are. But what she lacks in insane hotness, she makes up for with naughty smirks. That half-smile that says: I'm also not wearing panties. She certainly has the headlights on. In order to have pokies that prominent, despite our perceived warm summer day (hence the fedora, gotta block the sun from her flawless creamy skin), she must've pinched them a bit to wake them up. I have no doubt we could count on her to slide that skirt up and sit in our lap and give us a friendly frolic.
There are a few more swimwear pokies here for those of you who are in the festive summertime swing.
I realize I haven't posted anything in almost 3 months. It's all your fault. Well, not really, but if you would like to encourage me to cease the neglect, feel free to contact me or post a comment below. I'm all about submissions, so find some cuties and let's see them!