Since today is the first real NFL day, I thought about doing a braless cheerleader special. But as usual, I got distracted by a bunch of other hot chicks. It's hard not to be a little ADD when you're horny.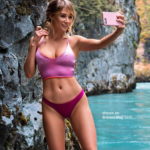 Yep, it's the total package here. The messy pigtails. The tricky but sweet smile. The ample boobies lovingly embraced but not impeded by the pink bikini. Annnn pokies for the win. But not too big, not too crazy – pokies that a man can deal with and dream about. Let's not forget about the crotch that is shoved way out there and is openly saying "put your mouth on me, dirty boy".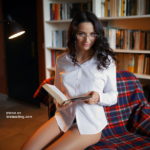 It's back to school time. At least on some of the southern campuses, frisky little coeds still have warm enough weather to be bouncing around in absurdly erotic attire. Isn't it yummy? Finally away from home, wanting to explore a bit, testing their limits. These days cell phones mean they feel compelled to take photos of themselves in all kinds of raunchy activities. This little hottie didn't make do with a cellphone selfie, instead she's busted out the white dressshirt, buttoned up but with grrrreat pokies and a braless look. And of course you can just catch a glimpse of her naughty little polkadot panties. The glasses sort of polish the look off, studious but slutty 🙂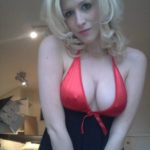 Well, well, well – what do we have here? I very naughty blonde with milky white skin and a fabulously floppy pair of coconuts with no hint of a bra and some satin-shine pokies. This may be my favorite photo yet today. This little blue-eyed hunny is practically broadcasting the fact that she is deliciously submissive, likes having her hair pulled, her ass smacked, and will happily call you daddy. Not that any of that is a fantasy of mine. I'd rather see her jump rope with that cleavage after she shotguns a beer.