Whelp, you finally made me do it. I'm gonna lay out for you here the most gargantuan and thorough guide to Alyssa Milano's braless boobies the interwebz have ever seen.
If we go waaaay back, we made our first post about Alyssa back in 2006. We've "touched on her" (ha ha, perverted pun intended) periodically through the years since then.
But then, in late October of 2017, I randomly put a thumbnail of her in our sidebar to give you voracious BralessBlog fans something to click on, and you damn near broke my site. Yeah, there were that many clicks!
Here's what the sidebar looked like at the time: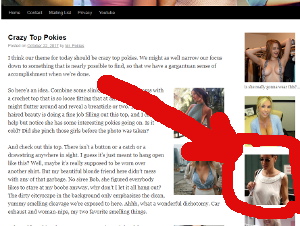 The post associated with that thumbnail was from 2012.
It was fairly innocuous, but obviously very witty and well written… (breathing on fingernails and buffing on shirt).
Basically what that tells me is that despite her hairy arms, you guys (and gals) are as crazy about Alyssa as I am, and want to see as much of her as you can. Especially if that involves those yummy chesticles of hers.
So that's the background, and why I'm doing what I'm doing. Let's get to the meet of it. A magnificent pictorial essay on Alyssa.
For general information, it's hard to beat the good ol' Wikipedia page. She was born in 1972. She's been married a couple of times. She's done some television shows and some movies. Blah-blah-blah.
You know what, as informative as Wikipedia is, it's unfortunately really vanilla and boring. That's why you visit BralessBlog right? How about if we do this…
Ten Perverted Facts About Alyssa Milano and Her Wonderful Boobies
1) She is of Italian ancestry. This explains all the arm hair. She seems to stay on top of keeping her upper lip waxed, thank thalord, but them arms, err. No word on her hoo-ha, but let's give her the benefit of the doubt and say that she doesn't let it go all afro or wookie-bush.

2) The following quote is attributed to Alyssa. Seriously. I'm not making this up.
I used to sleep in the nude. Until the earthquake.
Allllrighty. Well, let's unpack that, shall we. You've seen her body. Here, let me remind you.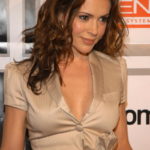 Now, she's a red-blooded, non-Catholic gal who has sexual cravings like any other normal person. Put that amazon body in bed next to you NAKED and see if you don't actually *make* an earthquake.
3) She has sinful body measurements. The official but possibly old data is:
Height 5'2″
Weight 110 lbs
Measurements 34C-24-36
Shoe size 7
The c-cup makes sense, as I've seen them about that size in the earlier days. But don't forget, she had her first child with husband Dave Bugliari in 2011. And those boobies definitely got bigger once she started her mega-epic breastfeeding campaign.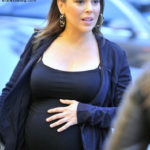 4) She's pretty damn popular. Mostly due to horny dudes who can't get over her bust. As of this writing, her twitter feed has over 3.2 million followers.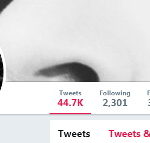 Think about that. If she tweets "My nipples itched today", 3.2 million people are going to be panting and shivering thinking about her nipples all day. Of course she could also tweet "post here if you want to give me $10 for my toenail clippings", and by my calculations she would make $32 million BAM just like that.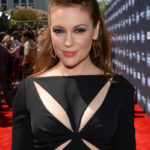 5) She is a horny beast. Yeah, there's evidence of this. My favorite evidence, is her hotness. But besides that-
She likes to masturbate. In an interview for FHM Magazine, October 2004, she said anytime she has gone through dry spells she draw herself a bath and "take herself out on a date".
She likes porn, and doesn't like it when dudes hide the porn, according to the interview she did with Esquire Magazine, Jan 2007.
6) Thank your lucky stars – she might be bi. You have possible heard about her lesbian sex scene with Charlotte Lewis in the movie Embrace of the Vampire. Didn't it win an award for "Viagra replacement of the year" or something like that? I think it was pretty widely considered one of the hottest mainstream girl-on-girl scenes. She hasn't come right out and *said* she likes the carpet munch, but who can get that into it on the big screen without really being into it?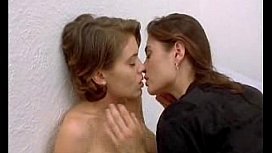 7) She likes to be touched. In 2007 she started her own athletic clothing line called Touch. Apparently, anytime you pay full price for a Dodger's t-shirt, you get to fly to LA and touch her boobies. Okay, so I made that last part up, but still. Who calls their clothing line "Touch"? A horny, hairy, half-Italian movie star, that's who.
8) Boob job, yea or nea? Official word is Alyssa has never done a boob job. As you can see in the photo, those girls have certainly gotten bigger over the years, but I have two words for you: pregnant cee. Once the milk glands swell up and are suckled, they may shrink back to almost normal size, but not quite. And besides, she has gained a little weight over the years, and it's gone to allll the right places.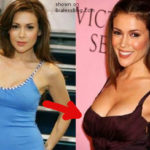 9) Both her husband's loved to motorboat her boobs. Okay, alright, so this is not quite factual, more like an opinion. But come on bro, look at 'em. Who could resist getting their face in there twice per day?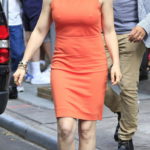 10) Seems to be missing the tramp stamp. Yes, she has 7 tattoos, but they are on her
forearm
wrist
upper back
stomach
shoulder
ankle (both)
If she has no tramp stamp, we are left to consider she doesn't want to doggie. And that leaves us with the logical conclusion that she likes to be facing you, so that you can play tune in Tokyo.
At this point, having fulfilled my 10-item promise, I'll interrupt our regularly scheduled program for some delicious media files. Enjoy 🙂
Here she is in a Nov 2013 shoot for Maxim India. The lingerie is a nice touch, and the bra has those melons squeezed up so far she may have lost all circulation.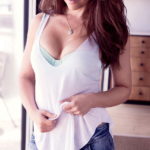 I think this is a fashion show, where her cleavage looks basically stunning in this black dress.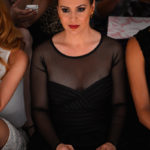 Let's talk about her guys. She's currently married to Dave Bugliari. They started dating in 2007 and got married a couple of years later. She dated Brad Penny for awhile. He is a major league baseball player. She has a thing for those players, as she also dated Tom Glavine, who was a pitcher for the Atlanta Braves. Wait, did you think we're done? Nope, she dated Barry Zito who pitched for Oakland. She did some business with Victor Webster, who was a co-star of hers when she was starring in Charmed. She may have dated Nick "The Lick" Lachey who as you may remember was once upon a time married to Jessica Simpson. Let's not forget about Carl Pavano, also a MLB pitcher. She dated Eric Dane the "McSteamy" guy on Grey's Anatomy. Although it breaks my heart, she was dating Fred Durst. One can only hope that Limp Biscuit didn't soil her girlie parts. She got hooked up with Justin Timberlake awhile back, post Britney Spears. She dated Brian Krause who co-starred with her on Charmed. She did the dirty deeds with Jason London who starred with her on The Outer Limits. I heard she might have been involved with Marky Mark Wahlberg when they were in the movie Fear. She spent a few years dating Scott Wolf (what ever happened to that guy?). Eric Nies, a former fashion model, spent some time with her, but I really don't think he's her type. She dated David Arquette, who at some point was married to Courtney Cox. And this is going waaaay back, but she dated Kirk Cameron, who these days only dates bible thumping nuns.
There were others, but I'm getting depressed thinking about all these dudes who put their hands on my woman, so I'm gonna stop there. In all fairness, she's in her 40's and when you're as hot as she is, dating dudes for forty years can really rack up some numbers.
She's been in tons of movies and television series. I think her first movie was called Old Enough, but the first one I remember her in was alongside Arnold Schwarzenegger in Commando. Charmed might have been her longest TV series, it lasted from 1998-2006. She was quite smoking hot in Mistresses from 2013-2014.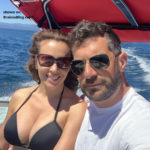 She has quite a voice. She's done a bunch of voice-overs for cartoons. She was a voice in a Ghostbusters video game. And yes, she published four albums from 1989-1992. I guess she got the whole singing thing out of her system?
Alyssa loves baseball, and seems to do some of her best braless work at the baseball park. Maybe it's a hot summer day, she wants to dress casual? Maybe it's a ritual – she thinks her team will win only if she leaves the bra at home?
http://www.bralessblog.com/2007/09/05/alyssa-milano-hot-and-braless-at-the-ballpark.html
http://www.bralessblog.com/2006/12/17/alyssa-milano-swinging-free-and-braless.html
Come on, ya gotta admit this is funny. Screw playboy, you come to bralessblog for the great, irreverent writing, right?
http://www.bralessblog.com/2009/08/16/alyssa-milano-hypnotized-and-braless.html
http://www.bralessblog.com/2011/12/26/alyssa-milano-braless-blowout.html