I could've sworn somewhere on this vast, 10 year-old site I had covered (uncovered?) Giada De Laurentiis. But search as I might, I see nada.
She's more than just a pretty face; she should be studied by scientists. Because her nipples, teased to the very edge of display, routinely defy the laws of physics.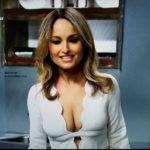 I forgive you if you are sitting there with your iphone knockoff or on your office desktop enjoying BralessBlog but asking "Giada who??" She is a celebrity chef and does stuff on the food network. Or at least I'm told so. I'm to poor to afford cable, and if I could afford cable I'd be too busy watching skinemax to watch the food channel.
Organizing my thoughts is a full time job, trust me. But I have a few things to share about Giada, and I'll split them up into discrete topics.
1) Giada may be a sex fiend
Giada was married for 11 years. After she divorced, there was evidently a lot of gossip around town. It's odd there's so much talk of her dragging dudes (sometimes several at once) back to her hotel rooms. She was photographed on vacation with Matt Lauer. Yeah, you know the news guy who was fired for fooling around with half of the NBC staff. The were "just friends". Un-huh, friends, with big pearly whites and super boobs and no nookie.
2) Giada likes keeping her nipples under wraps
Bikinis, dramatically low-cut tops, freezing cold production sets – none of that matters, we rarely get a glimpse of those pokies. You'll see some photographic evidence here, and (because I'm awesome) some downblouse shots. But considering the body she has and how willing she seems to show off her cleavage, it's tough to find shots of her nips. (See below for nip slip gif.)
3) There's something going on with Giada De Laurentiis's crotch
I realize this is "bralessblog", and you're here because you goddam love the boobies. I don't mean to distract you from that. Get a load of all the cleavage you want, bro. (And you too, sis.) But I would be remiss if I didn't explain to you that Giada's crotch caught my eye. I realize she's a mom that's approaching her 50's now. Things start to droop and loosen up, I get it. But the few photos I've seen of her hoochie area make me think… megalabia. If she really is a sex fiend, maybe her girlparts stay swollen. Maybe she likes to pull on them, kinda like me as I sit around in my barcolounger watching Knight Rider reruns and pulling on my jimmy. I'm just saying: that's a package.
4) Giada's measurements are heavenly
Forget the supermodels with the long legs. Giada is a compact 5'2″ or so. She's petite, which is a little weird for a chef. But don't you worry, my girl comes packing a 32 C-cup bust. I like 'em big and small, but sometimes you see an advertised C or D and you think somebody might be fudging the numbers a little. I fudge my number all the time, healthy 4″ here, glad you asked. But anyway, that skinny waist, acceptable butt, and curvy soft boobies are just heavenly.
Here's about as close as we're going to come to a nipple slip from Giada (click for the gif)…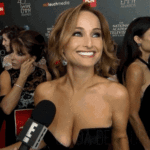 Let's not skip over the Giada downblouse 🙂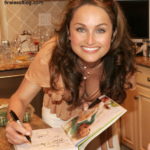 Update 1:
Well, I was wrong. That *wasn't* as close as we are going to come to a Giada nipslip. In fact, we are going to come much closer. Apparently she was splashing around in this blue bathingsuit at some tropical location, and a big mean wave slapped her around, and OOPS! one of those nipples popped right out. It is as pretty and pink as I had hoped, but is more twisted up and erect that I had ever dreamed. Lemme know if you agree…
Update 2:
I can't seem to leave Giada alone. Not only have I decided to update this post with a few more smoking hot photos I found, I also decided to create a video of some of her bounciest moments.
For the video,
Segment 1: Giada's cleavage is a little crazy in an animal print dress.
Segment 2: Giada is strolling along a beach in a blue bikini, and she seems to have a little extra bounce in her step.
Segment 3: She is in a fairly cleavage-friendly dress on a morning show doing some cooking, and the camera seems to occasionally get distracted by her boobs.
Segment 4: One of her routine cooking shows, but she is wearing a tight-fitting blue top and looking insanely gorgeous.
Segment 5: Eating in a dive bar while wearing a soft, tight, plunging v-neck sweater. Grrrreat cleavage.
Segment 6: Dancing and bouncing around before a talk show, and then getting cheered by the audience.
Segment 7: Giada does some wine bottle stuff in the kitchen, but she is wearing glasses with her hair up and she has the top two buttons on her shirt undone so that we are forced to gape at her cleavage!
Note: Youtube deleted my account, despite the fact that I show zero nudity and keep it pg-13. The following video might have to do as a substitute for you pervs…
edit: the youtube nannies struck again
Update 3:
Here are a few photos of Giada parading around on a beach in Miami. Yep, she's still got it. And by "it", I mean some nipples poking out of her swimsuit and a curious and impossible to ignore crotch bulge.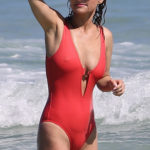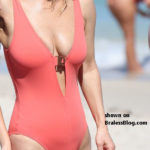 Update 4:
You are probably going to want to stare at her cleavage while she cooks. Gotta wonder what she was thinking when she unbuttoned that shirt so far.
Update 5:
Ya'll know I cannot leave Giada's vagina alone. Wait, say that 3 times fast –
giadasvagina
giadasvagina
giadasvagina
That's hard to do, but not entirely unpleasant. Anyway, this wacky swimsuit she's wearing is not particularly bad at hiding her lips, it's just that her lips are plump enough and juicy enough that hiding them is quite difficult.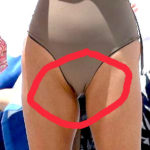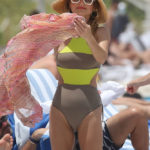 We get a little hint of nipple pokies in this shot, so it's worth including.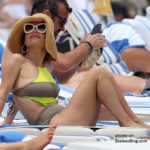 And finally, this is another view of her in the same swimsuit from a couple of updates ago. But it is high quality enough to add, as I like the way her cute little boobies are squashing out and on display!