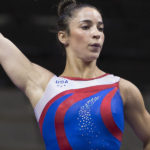 Aly Raisman is (obviously) a hot gymnast who bounced to fame in the London Olympics in 2012. She had some trouble with a creepy doctor, and became a bit of a spokesperson for the feminist movement. She also doesn't mind posing nude, was that for Sports Illustrated? By the way, she has 2.3M followers on Instagram, so I guess you could say she's popular. Rather curvy, but difficult to find those pokey pics of her.
Although I'm too fat to run, I at least appreciate running. And especially women who run… and get sweaty… and have nipples poking out of their sportswear. Seriously, one Saturday morning when you're feeling less lazy, set your alarm and climb out of bed and go check out a local 5k run. The chicks love to huff and puff and weeble-wobble through the 5k's. It makes them feel like they are accomplishing something, and leaves them feeling less guilty about stuffing their face with carbs and hamburgers later in the day.
It's not uncommon to see incredibly hot beach volleyball chicks with pokies. Obviously it's a hot, sweaty exercise. A sportsbra or a bikini top gets a little wet, those boobies get jiggled a bit, and BAM here come the pokies.
I can't go to swim meets. Seeing chicks in those super-tight swimsuits, and knowing they are all wet and have nothing on underneath gives me the shivers. Last time I tried this, I ended up humping a trash can in the lobby of an artsy-fartsy YMCA. You would think these swimwear manufacturers would know to double up on the material in the crotch and nipple areas to keep the goods from showing through. Maybe they do, and babes just keep buying cheap Chinese knockoffs.
Occasionally those knockout crossfit gals pop up in their tiny sportsbras with their washboard abs and their inflated boobs and they make me sick. By sick I mean aroused and panting. It wasn't that long ago that I did the post about hardbodies. You might think I have a thing for muscular babes, but really I appreciate allll shapes and sizes.
No post talking about sporty chicks and boobs is complete if you don't cover tennis. Ana Ivanovic, Jennifer Capriati, and Martina Hingis have been known to smuggle a few raisins in their shirts. I can't imagine trying to coach a hot chick who bounces around on a court all day in a short skirt and her nipples poking out. It would be a recipe for disaster, likely to end up with me trying to get crusted on kleenex scratched off various parts of my body.
I'll leave you with a random gymnastics babe who is certainly not contained in a bra and just might have eaten a camel toe for breakfast. Also while I'm at it, a perfectly timed shot of a volleyball goddess hitting a serve at the top of her jump, with her pokies highlighted like she's standing in a perverted spotlight.