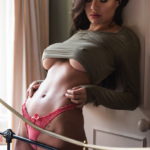 Frankly, I lost my mind when I saw this photo. Slobbering, falling down, hand in my pants, turned into a mindless braless zombie.
Really, I could drop the mic right here and we would all understand. Alas, I must forge on. Try to move *past* this incredible beauty with the retina-melting nipples.
As much as I just can't stop looking at her boobies – and trust me the tractor beam that draws my gaze back to those girls is pretty much irresistible – I also keep staring at her crotch. Questions that are burning a hole in my pants:
– Is she squashing her labia against that bed frame??
– Is that a tattoo of a tiny heart?
– Can I put my face in there?
– Those little wrinkles at the crease of her thigh are just for me?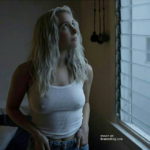 This little blondie in a white tanktop is going to cause a stir. By that I mean the object in my pants is now as a stiff and straight as a paint stick with which we could stir some paint. My two favorite things about this photo: I like how her boobs are a little droopy, and I like how we see basically a perfect nipple printout on her tanktop. There are probably wet t-shirt contests that reveal less than this. And she is so introspective. As if she's thinking… why are his lips not on my nips?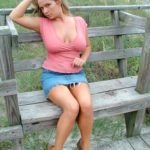 If we continue to follow that theme, veering away only slightly, we see my widebody girl. No, I'm not saying she's pudgy and deserves a label: warning, wide load. I'm talking (as always) about her chest. They are kind of drooping to the side in the classic sidewinder fashion aren't they? Which I like. I suspect if she were to shove them together they would form the most delicious looking cleavage in the world.
And yes, my dirty friends, you can see up her skirt.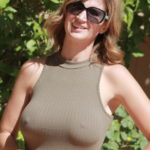 This yummy milf is rocking a dress (or is this just a top?) that accentuates every curve of her braless d-cups. And those things are beyond a doubt perfectly natural. She has a youthful smile, but the crinkle of the wrinkle beside her eyes can't be hidden by sunglasses. That's what tells me she's 38, drives a convertible Mercedes, sometimes laughs until she pees a little, and is not afraid to grunt when she's doing the deed.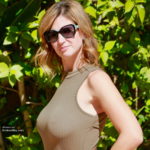 I'm tempted to say she has great hair, but I think those are roots showing. Looks, I'm not hair expert, I'm a boob ninja so don't quote me on this. What is it with the profile pic? It's not enough to slay us with the smile and the proud pokies, now she has to turn sideways and make us daydream about watching her girls bounce while she straddles us in a wonderful Christmas tradition?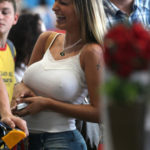 Speaking of smiles, let's segue on to this phenomenal natural beauty whose girlish pumpkins are unrestrained by one of those pesky bra things. I like how she's laughing and enjoying herself. I can only imagine she is standing in line at the airport and the upcoming security checkpoint is staffed by some horny shark who is going to try not to stammer and flick when those pokies get close to his eyeballs.
PS – that airport fantasy reminds me of this post.
One of the more popular movies these days is Instant Family. Other than Markie Mark, one celeb of interest in the movie is Rose Byrne. Yes, she has a name that none of us can spell or pronounce, but thankfully she is very proud of her little braless boobies. Showing them off in this plunging red dress at some Hollywood get-together seems to come naturally to her.
Might as well mix a little celeb action in here today, yes?