It's not long until Christmas, and I'll give you a little tip: Santa likes boobs too. I don't know exactly what she looks like, but I'm willing to bet Mrs. Clause has had a bit of motorboating over the years.
Maybe, if you're lucky, you will get the gift of boobs for Christmas. Not like breast implants. Chances are, if you're visiting this blog, you're a guy. Yes, we have female visitors too, but statistically speaking, you're more likely to be a guy. As a guy, we do not want you personally getting breast implants. I mean like boobs in your face, that kind of gift.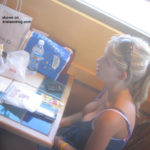 It could be boobs at a restaurant, like this little lady. This kind of downblouse craziness is hard to get adjusted to. What do you think is going through her mind? I have big, soft, double-D boobies. It's just so difficult and boring to keep them covered up. I think I'll just squeeze them up and out, display them to everyone. If the guy is cute, I'll think it's hot that he's looking at me. If he's not, I'll call it creepy.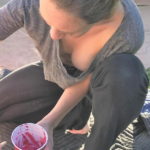 The other day I was walking through the downtown market, and I came across this gal who was painting. She had a bucket and you could make a donation if you wished. As she finished up her paintings, she would lean them up against the rail and start another. Folks were buying the paintings, so that was another income stream for her. She was dressed quite comfortably, wearing no shoes, stretchy pants, and an over-sized v-neck shirt with no bra. I think part of her popularity was the fact that gentlemen strolling by would catch a glimpse of the downblouse action of those boobs weeble-wobbling under that shirt, and they just couldn't help but stop and stare. And it some cases contribute. And in some cases snap a secret photo.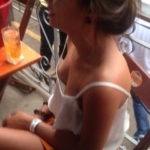 Honey, let's meet for a drink at a cafe. You can wear that frilly little orange skirt that I like. And that tanktop that is ver loose-fitting and barely there. No bra, okay? I want those pretty, perky, pink-tipped boobs to be tantalizing me the entire date. Also, wear your hear up. Keep it off your neck so I can get the full view of your radiant skin. What's that, the waiter is staring down your top? Well, we don't mind do we?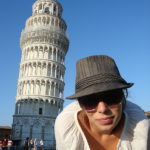 Meanwhile, as we visit the Leaning Tower of Piza, how about we stare right down this girl's shirt? I can't say I'm a fan of the crazy hat and the goofy sunglasses, but my goodness I can see all the way down to her bellybutton. This has to be on purpose, right? Maybe she unclipped her bra, stuffed it in her purse, bent over and said "did you get the photo?" I kind of suspect she and her boyfriend frolicked in the taxi on the way to the Tower site. He had a hand up her shirt feeling those soft yummies while the cab driver smoked and tried not to stare in the rearview mirror.
http://www.bralessblog.com/2016/12/06/downblouse-pictures-are-instinctual.html