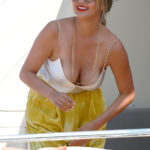 Although I've mentioned her before, Chrissy Teigen has only gotten hotter in the intervening 5 years or so.
I promise you, this girl is 100% au naturale. No silicone, no saline. She occasionally has a case of the mom boobs, leaking milk and all, just depends on what cycle she's in with her husband John Legend. He must be a Legend in order to score a babe of this magnitude.
The size of her boobs should not be underestimated. We all know a few women who wear underwire pushup bras or even padded bras to help emphasize their bust. And god bless 'em. Thank you ladies, from the bottom of my pants. But Chrissy needs no such tomfoolery. There's a photo here of her in a brownish/tan-ish swimsuit. You get a good glimpse of sideboob from that pic, and and even better sense of the giganticness of Chrissy's breastacles. What would you guess, a DD? The interwebz list her as a C, but I can tell you with great authority that info is outdated.
Here's what I like best about Chrissy: she gets it. She understands that her huge boobs drive guys crazy. She knows those mogambos are some of her biggest assets, and she plays to it. She lets them flow around braless. She lets them slip out. Sometimes she'll go to a red carpet event in a dress slit up to her armpits and no underwear. She giggles when standing around for photos and tries to hide her coochie with her purse. I've got a great body, big boobs, and millions of dollars, lets show all this off! That's what she's thinking. I hope.
It's not hard to find every manner of photo and video on Chrissy. I haven't found any kind of leaked sextape, but pretty much everything else is out there. She has certainly posed nude before. I'll show a couple of semi-edited shots of that. She does lots of modeling, some game shows, she rubs her crotch on her husband to mark him with her scent. You know, she stays busy.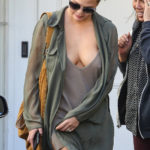 She has published a couple of books. Despite the fact that I'm illiterate and can't read, except for basic sex words like what you'll find here on BralessBlog, I got all excited and tracked her books down. They are really boring shit, like cooking and stuff. She's a curvy lady, and I get the sense that she eats what she wants to eat, then goes on diets so she can fit into her stretchpants and her braless blouses. Her jeans say: huh-uh, ain't gonna fit. And her yoga pants say: I got yo back girl. Anyway, I would think she would be kind a careful about recommended to people what to cook and how to eat. Not like she's a fitness queen or anything.
I have one last really appalling piece of trivia for you. She has been married to her husband since 2013, but she famously said in an interview that he had never seen her butthole. That is crazy shit going down right there. Now I can understand that my man John got so pre-occupied with those heavy girlies upstairs that it took him awhile to get down to the bootie. But we ALL KNOW HE'S SEEN HER BUTTHOLE. Now maybe she's a little prude or a little shy, and doesn't want him messing with the hineyhole, but regardless, he's been lookin' at it. Thinking about it.
Stop lyin' Chrissy.