There are about a million stories out there about Elizabeth Hurley's boobs. An no wonder, they are perfectly succulent. This despite the fact that she's 53 years old. I think it's time we acknowledge that she will be hot until the day she dies.
Frankly, I don't think I'll ever tire of looking at her boobs. They are perfectly natural, and a solid C-cup or D-cup. And she definitely knows how to show them off. She has 1.1M followers on her instagram account, and there's a damn good reason for that. I bet if we did a statistical analysis of her instagram followers, we would find 85% of them are male. Because boobs. And of the 15% female, 100% of them are mesmerized by her cleavage and would swap sides to bat for the home team if given a chance in Liz's particular case.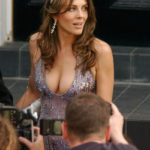 Aspirations to statistical boobie analysis aside, let's forgive my shaky math when I point out that I've been lusting after Lizzie since the first post I did on her back in 2006 – which I think means thirteen years ago. If she is 53 now, that means she was just turning 40 then. I would definitely just as soon shag her at 53 at I would have at 40. Yeah, there were probably a few less miles on her, um, chassis(?) back then, but shaggable is shaggable.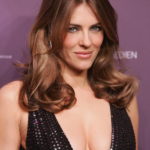 Funny story, I think Elizabeth's butt is really great, but nobody ever sees it. Her boobs are so magnificent, nobody can ever get past them. She's always showing them off, wearing deep plunging tops or open shirts to emphasize those braless boobs. I'll also point out that at 53, with perky pretties like that, she dispels the myth that somebody who doesn't wear a bra will get saggy boobs.
This other post I did in 2006 just makes me chuckle. She had the nerve to show up for a prime time news show where she jitter-bugged around talking with the hosts outside with no bra on. I think everyone there was thinking "NIPPLE ALERT! THIS GIRL HAS POKIES AND THE FCC IS GOING TO FINE US! AND I CAN'T STOP LOOKING!" Make sure you check it out.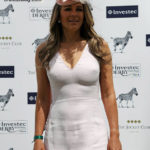 She was married in 2007 but divorced in 2011. We can be sure she ruined her Ex (Arun Nayar) for boobs for the rest of his life. I bet that poor guy is now dating some skinny, curveless gal with A-cups. He can't get around boobs without sighing heavily and pining away for Liz. Poor chap. Those pokies… sigh.
Taking you on a history tour, from 1987 to 2000 she dated Hugh Grant. That dude was actually caught soliciting a hooker while he was dating Liz. Now that, my friends, is a sexaholic. If you have access to the tender thighs and soft mammaries of Liz, and you're still chasing hookers, you're probably an addict.
She had a kid back in 2002 when she was 37. So yes, those boobs you see swelled up during childbirth, and are now that much more ready for our nibbles.
I think she's been in a TV show called The Royals for the last few years. I doubt that even if I put the aluminum foil on my antenna and held it away from the wall I would get that channel, so I haven't seen the show. Who cares, I just enjoy checking out her nipslips, red carpet pics, and praise the little baby jesus I found a couple of downblouse pics of Liz.
Let me interrupt this program for some Liz Hurley topless photos…