Hey old fogies, here's a tip: FTW means "for the win" in cool dude speak.
No huge or prolific posts today. I've been trying to get caught up on special requests folks have sent in via my contact page and smoke signals.
I added a handful of pokies and boobie photos to the Lynda Carter page.
I added a few photos of the luscious girl-mounds of Ms Sofia Milos, and fixed some weird formatting issues while I was at it.
Jennifer Aniston is a perennial crowd favorite, and I updated one of her pages here. Who knows how old that gal will get before she stops being hot, I'll probably be dead by then.
Little-known Michelle Monaghen got some love from me, along with her little-sized nipples. I added her instagram account so ya'll can go cyberstalk her.
I know she hasn't been bringing the yummy lately (age-related), but one of Lisa Rinna's pages deserved a few added photos because… well, boobs are boobs.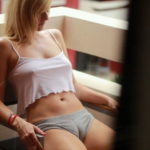 I don't want to leave you folks with a completely medialess post, so just to keep the masses from revolting, here's a photo of some braless tanktop pokies. You may be somewhat concerned that this young lady is experiencing a painful cameltoe. Fear not. I'm more than willing to swoop in and yank those panties out of her pudenda-crack with my teeth while avoiding shaking all the cheetoh crumbs out of my belly-button or offending here with my earwax-cicles.