Shailene Woodley is a hot little American actress who is blessed with all kinds of yummy boobage.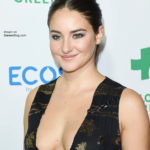 Not to sound like the perverted stalker that I am, but I happen to find Shailene's eyes as sexy as the rest of her. We'll start out with this photo because a) her eyes are glowing like gold-colored laser beams, and b) those glorious boobs of hers are braless and uncontained. In fact, she's lucky those girls didn't spill right out of her low-cut dress in this photo!
Shailene has recently turned into quite the activist. She does some stuff for greenpeace, and checks out ocean debris, and calls for people to stop polluting. All fine, all good, but it sort of distracts me from the softness of her cleavage.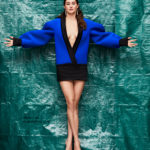 And speaking of cleavage, here we have a shot of her with no bra and some delicious inner-boob cleavage. These girls are all natural, I can tell that from a distance. Like with my binoculars when I stare at her while she's sipping coffee on her balcony in the early morning hours. I'm not saying I do that a lot, officer. Only when I am bird watching and accidentally do it near her house while she is provocatively clothed.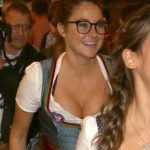 I'm sort of intrigued by this picture of Shailene dressed up like a little German beer wench. I like the glasses, and the squashed-up, soft-looking cleavage. Her nipples, by the way, are exquisite. I've seen her parading around topless in a movie called White Bird in a Blizzard. It's worth seeing just because how else are we going to enjoy her cute little pink ones?
I liked her most in the Divergent movie. She was very active and athletic, and it was fun watching her try to keep those boobs under control during the filming of her fight scenes and running scenes.
Update:
Ya'll know I can't resist a busty gal with a candid glimpse of crotch. Here are some bikini photos of Shailene looking quite skinny/fit with a yummy bulge between her legs.