There is some kind of hormonal thing that goes on with women as they age that encourages them or basically mandates that they stomp around braless. It is a damn near certainty. And hey, you and I are not complaining.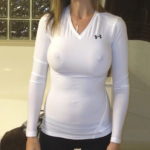 Like this young lady, who is not that young, and appears to be somewhat pissed that somebody is topping to snap her photo while her nipples are threatening to rip right through that thin, white, stretchy top. It looks like she may also have a pierced belly-button, since I can see dang near every pore on her skin through that shirt. But it's hard to tear my eyes away from those big raspy nipples, I'm sure you can commiserate.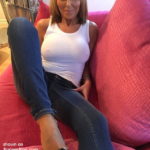 This lady has to be 50 years old if she's a day. The way she is staring at the camera is a little creepy. She seems to be shooting death-rays out of her eyeballs, or trying to convince us with her Jedi mind trick "you will come lay on top of me and bite my pokies through this tanktop". And it seems to be working, cause hey that's exactly what I want to do. Right after I fix her bangs.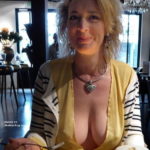 This braless milf decided she would stop to eat a meal. No problem with that, we don't want her hangry. The dress she is wearing is falling open, and it's working really well with those all-natural double-D's of hers. Now admit it, you would love to sit across from her and stare at her cleavage (and her nips poking through that yellow material) and you would buy her damn near anything she wanted to eat or drink.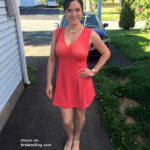 Yowza! This milf mamma is striking just the right pose standing in her driveway in a red see-through dress. I'm guessing she knew that folks would be able to see her big cans? I kinda like the shape of those pretty boobies, and the way her nipples are pointing in slightly different directions. It makes me think she is natural, and a little loose and floppy, and it makes me want to motorboat her!