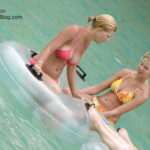 If you think about it (and I do, a lot), bikinis are awesome because it's like chicks are wandering around in their underwear. I mean, they aren't wearing anything under their bikini, right?
The bikini bottoms, whether they are full coverage or thongs, are pulled tight against the sweetest little female bits. And those bikini tops, that have no assistance from elastic filled, wire reinforced brassieres. Sometimes they are simply overwhelmed, and the girls go bouncing around. And quite often, they aren't padded or thick enough to hide those water-hardened nipples.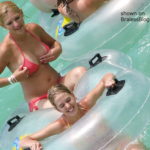 Which brings us to today's special treat. I live in North America, which means it's wintertime right now. I generally bitch about the cold weather in the winter, and bitch about the hot weather in the summer. I bitch, get over it. So I need a little pick-me-up, and you do too. What better way to enjoy the winter than to drool over summer bodies in summer bikinis?
Some yummy boobs in bikinis would be awesome, but here at BralessBlog I want to totally eclipse awesome and blow your mind. All while my hand is in my pants.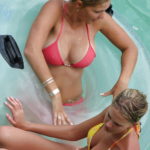 Big boobs aren't enough, I also want pokies. Those hard nipples add a shock factor that is hard to ignore or resist. Why do you think I have an entire category for this? And this little amateur hunny is just what the (amateur gynecologist) doctor ordered.
Do you think she has DD's? Or are those like F-cup boobs? They are all natural, I can definitely tell that.
Scrolling back through some of my old posts, I can see why I've kept this website going for ten years. It's because I'm brilliant, and horny, and I like boobs.