You probably need to watch this video.
For several years now, PureNudeYoga has been producing videos of nude babes doing yoga. Sounds right up my alley, right? What's not to like? But recently I heard some good things about them, so I finally decided to check them out for myself.
They are not exactly new on the scene. Their youtube channel (as you can imagine) has 179k subscribers. I think I have previously bitched and groaned about how they get away with showing very clear nudity in some of their videos on youtube, while I have videos removed and people reporting me for non-nude videos. But that's just me being jealous, and I digress.
They also have an Instagram channel with 14k followers, their own website, and a very popular Amazon store.
Their claim to fame is selling these videos. You can rent or buy them most of them electronically. Or you can buy the DVD's.
I have been drooling over screenshots and trailers of their "Ocean Goddess" video, so that's the one I picked to buy. If you aren't familiar with the one I'm talking about, let me jog your memory with a few examples…
This is the "pg-rated" image they use on Amazon: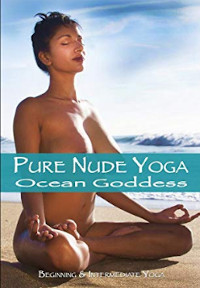 And this is the more "R-rated" image they use on their website: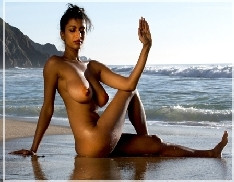 Now you can probably see why I picked this one. A busty, nude model like that contorting into all kind of funky poses on an isolated beach? Yep, sign me up!
On to the review…
Ocean Goddess Video Description:
This is an hour long video. Mira Westwood is the model. She was twenty-five years old at the time this was shot.
She is stunning, and perfect for this type of role/setting. The music in the video is spot on. It's very earthy, mystical, and manages to both energize and relax.
They never mention which beach this was filmed at, but it's gorgeous. It's a beautiful setting, and it's pretty cool to watch Mira doing her thing in the sunlight with the waves crashing in the background and the sound of the surf.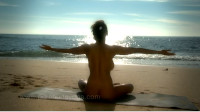 Speaking of sunlight, Mira works hard enough to work up a sweat, and it's pretty erotic to watch her hold some of the poses with the beads of sweat popping out on her skin in the sunlight.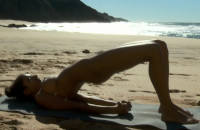 This isn't some kind of peek-a-boo thing where you never actually see her body. You see all of it. At one point she is in a pose where her pelvis is stuck up in the air and her big, natural, sweaty boobs are sort of falling down in her face. They somehow manage to show all of this in a glamorous, high brow kind of way!
Like a black hole sucking entire universes into its center, you just cannot escape the draw of those big natural boobs. I thought the fact that she was completely naked would actually provide some distraction from her chest. And I was aware (very aware, for an entire hour) of the fact that her butt and her crotch were out there for all to see, but it was her magnificent boobs that I kept staring at.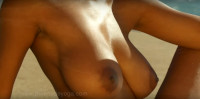 Things I Liked:
+ Very well done video.
+ Professionally shot and edited.
+ The model (Mira) has the best natural boobs ever.
Things I Didn't Like:
– Mixing up some of the hour with a different setting, maybe even at a different time of day would have been good?
– I didn't get a free date with the model as a part of the purchase?
– I don't know much about yoga, so maybe if they would've better explained each pose and what it's supposed to do?
Conclusion:
I give the Ocean Goddess video two thumbs up. I thought it was worth the money, and give it a positive recommendation.