With no further ado, here are my top 5. At least for today. Until I stumble across some more and get worked up again.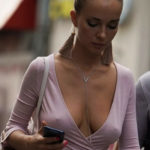 1) Ok, whoa. We should talk about this for a minute. This babe looks like she was plopped onto the street from one of my dreams. She is astoundingly gorgeous. And those gigantic, teardrop, braless boobs? Um, with the big nipples poking out? I need a cold shower. I'm not sure I can continue my "Top 5" because this chick has me all lathered up and panting.
Do you think she would marry me? Maybe if I vacuum her car and clean her toilet she would acknowledge my existence?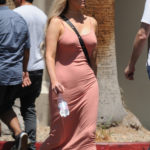 2) I don't know where she bought this dress, but this little hunny knew what she was doing. It must be made out of material that's thinner than tissue paper, because I can see every little pore, mole, bump, and follicle. Seriously, at full size I can take this photo and more easily map the fissures and ridges and details of her nipples than a cartographer can study satellite imagery.
I think I can even zoom in and see the bulge of her crotch as she is walking. Dang, that is a very revealing dress.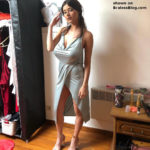 3) I think I just blew frosted flakes out my nose. What a damn body on this chick. Is she Asian? She's something, that's for sure. I don't have my glasses on, so all I can see is boobs. And maybe some nipples.
I was sort of thinking that's a hell of a dress. But then I realized if you stuck a gal with a normal body, you know one like I see around my trailer park here, into that dress, I'm not so sure it would be particularly impressive. It's all about those huge DDD-cups.
4) I realize this may be more of a nightie or sleepwear than a dress. And I realize she is headless. And I realize her boobs are sagging. So don't write in just to alert me to those facts.
Sue me, sometimes I like big saggy boobs. And crazy pointy nipples. These things would feel great pressed up against my face and very slightly sweaty. Besides, it's my blog, so I'll post what I want to 🙂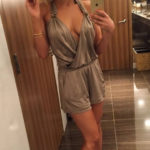 5) Let's wrap up with a braless blonde who is hot enough to make my knees wobbly. The way she has her hair all plumped up, I'm guessing she was about to go out for a dinner date when she took this photo.
Yes, this is a dress. But I've added to my expertise and my vocabulary over the years, and I feel qualified to alert you that she is actually wearing a romper. I hope one day I can go on a dinner date with a girl wearing a romper who has solid, perky b-cup boobies that are half hanging out. I'm praying.