It's not just the end of another year, it's the end of a decade. And yes, I've been staring at braless boobies for over ten years.
If you needed a fun reminder, my lineup back in 2010 looked like this:
September 2010 – Michelle Williams
August 2010 – Gabrielle Union
Kendra Wilinison Braless Smiles
July 2010 – Braless Frostee
Jelena Dokic This Is Ridiculous
June 2010 – Faith Hill
May 2010 – Absurd Bikini Cleavage
Edyta Sliwnska
Hayley Marie Works It
Anna Paquin
Random Cleavage
Isla Fisher
Jennifer Aniston Ruins Me
Fearne Cotton
April 2010 – Anna Paquin My-My Ms. Bi
March 2010 – Fresh Sunshine Pokies
March 2010 – Reese Witherspoon
Nicole Kidman
February 2010 – Sneaky Pokies at the Fair
January 2010 – Anne Hathaway Gets Older
Katy Perry Pokes
Rocking Those Pokies
The most popular post on BBlog in 2019 was actually not written in 2019. It was posted back in 2016, and you perverts just can't leave it alone.
2019 has definitely been the year of the braless. Damn near everybody is following the trend I started many years ago. Well, ok, that's not true. But a lot of ladies have been going braless:
Rita Ora
Tammy Hembrow
Mae McKagan
Bella Hadid
Kristen Stewart
Dakota Johnson
Abby Dowse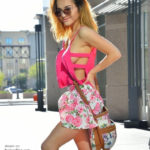 This perky little gal is having a lot of fun in the sun thrusting her yummy boobs out while she goes braless in this open tanktop creation. Is that color salmon? Who cares. I am mesmerized by her sideboob. And maybe her her just a little. I must be getting old if I'm starting to both notice and comment on chicks' hair.
Not ready for the viagra yet though. That would actually endanger all of mankind.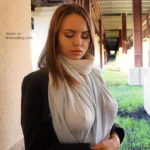 I just can't figure out what's going on here. She is wearing some kind of jacket or coat, but then she seems to be completely topless because of the way her boobs are poking through that scarf. Am I staring at this correctly?
It's not that hard to confuse me. I'm old and senile, but thankfully still a pervert.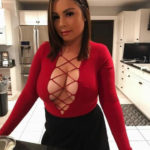 The only thing wrong with this photo is it's too small. But this lady is so hot, and her cleavage is so tantalizing, I had to include it in today's post.
I'm going to make up for that by including one more photo. I hope you are sitting down, and there's nothing in front of you that would give you a contusion or concussion if you fall on your face. All clear?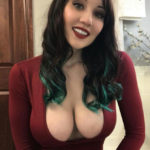 I'll leave you with a pic of this smiling lady and her crazy cleavage. Wow, those boobs are heavenly. I totally feel the need to motorboat right now.