It was a good day to stamp out my ignorance about Rita Ora and those very heavy boobs.
I might be the only one who doesn't know who she is, considering she has 15.8 million followers on her instagram account.
She kind of popped onto my radar when I stumbled across a news article that I just couldn't ignore. The title:
Rita Ora Goes Braless Under Semi-Sheer Crop Top
Now come on, do you think I was going to pass that by??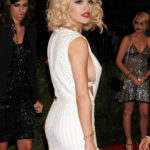 So once I fell into the dark cesspool that is the internet, I discovered a few things about Rita. Mainly I was busy looking at her boobs. Some of this is top secret, but hey I'm not good at keeping secrets. Let's go through what I learned.
1) That cleavage is probably just too deep to be real. What I'm telling you jokers is that her boobs are fake. Not in the sense that you can't touch them. They are real enough from that perspective. She's probably "enhanced".
2) Rita has a tattoo on the side of her boob. I wish I knew this first hand from groping it, but alas I had to peer/stare/slobber on dozens of photos to determine it says:
love all, trust few, do wrong to none
That's very philosophical, and not as hot as saaaay "pinch my nipples while you call me dirty names".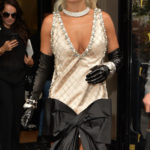 3) Rita was insecure about her boobs growing up. Here's what she says about the time period when she started growing breasts:
I started maturing when I was 14 and so for me I hated my boobs and I went to musical theatre school so we wore leotards and did ballet. I was the first one to have tits and I hated them until the hottest guy fancied me and then I liked them!
That's what every busty lady says about her boobs. And that's what every flat-chested lady says about her boobs. All women are insecure about their boobies. This is not news to womanologists like me.
4) One time Rita was on a TV show and she wore a trouser suit with a top that was open all the way down to her toenails and nothing on underneath. It's hard to hide those 34DD boobs. The network received over 400 complaints. I guess I can understand that. Maybe some parents were outraged if their young kids saw the cleavage and their eyeballs were burned out. I personally would've filed a petition to see more.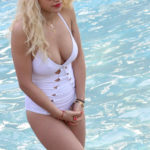 5) Rita has made out with girls, and may be bisexual. I think that means she almost definitely likes boobs? She came out with a song called Girls where she talks about putting a liplock on a lady. A bunch of people got all up in arms saying she wasn't supporting gay folks. None of this makes any sense to me whatsoever, but then again it is often difficult for me to think beyond a simple mammary gland.
Now the very best news about Rita is that she is constantly, and I mean *constantly* stomping around with her boobs hanging out and braless.
There are certain celebs out there who make my life tough. I need nipples and cleavage, and they are so damn stingy with it. Not Rita. She gives the gift of those wonderful boobs all day every day, even to weirdo pathetic perverts like me.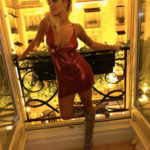 Update:
Let's check out Rita doing a little braless painting in the backyard…