Who knew that 1989 was a good vintage for boobies?
I'm guessing the whole "Acropolis1989" thing is a reference to this gal's Greek heritage, and possibly that she was born in 1989.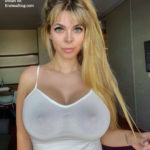 I've seen some photos of her with smaller boobs, so I suspect these things are fake. And yowza, I don't know what to make of those nipples. They look like they are bigger than a moonpie, something that would really slap ya in the face and make ya cry for yo mamma.
There is some speculation and gossip and interwebz chatter suggesting Acropolis does fancy photoshop things to her bewbz. Maybe that's true, maybe not. I guess I'm just content to sit back and enjoy the show.
I dug up some videos of her too, and will post a collection of what I found.
She has an instagram account here with 446k followers (as of right now). I think she's deleted her Tiktok account, but she's of course really pushing her onlyfans subscriptions. Somebody estimated she's earning about $20k/month through there, so hey who can blame her.
If you have any additional info about her, feel free to contact me and I'll try to keep the post updated with any interesting discoveries!
Update:
Wow, this post has been wildly popular. I have dudes swinging from the rafters asking me where they can find out more about Acropolis. I keep telling them to study Greek mythology, and they keep thinking that I am not funny. Anyway, I thought you might like another short clip I threw together of her showing her best assets. There is enough cleavage here to keep a man well-fed for like a week.
Update 2:
It looks like Acropolis now has 1.3 million followers on Instagram. Wowzers, who knew big boobies could be so popular? There is no damn telling how much money she is making via onlyfans action these days. I think I want to be reincarnated as a busty woman in my next life.