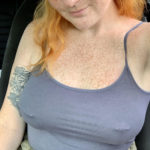 Sooo, freckles anybody?
A little chubby, yes, but I couldn't really resist those big braless boobs with her pierced pokie nipples.
It looks like she's in a car. I can picture her bouncing around in there with every pothole she hits. That would be quite distracting. Her freckles remind me a little bit of Lindsay Lohan.
While I was at it, I updated one of the Shania Twain posts with a new video. That kind of bouncing makes me a very happy person. I wonder what cup size Shania is?