A few quick updates for today…
I added a new video to the Acropolis1989 post. Ya'll just relax and quit blowing up my inbox would ya!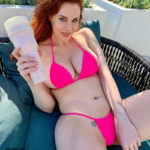 Maitland Ward makes me want to buy a fleshlight.
That porcelain skin. That red hair with those blue yes.
Oh, did I mention her crotch and those boobs? Um, yeah. It works for me, I'll just put it that way. I kind of look at this picture and imagine her crushing my greasy head with her thighs. I think I would let her use that thing on me. Don't lie, you would too.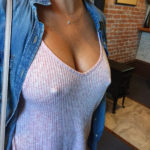 I was in a yuppie bar the other night talking with this lady. She was only mildly attractive. It was hot in the bar, and before long, she let her hair down. Hmm, not bad looking. Then she took her glasses off. Oooh, I like. She went to the bathroom and when she came back she had unbuttoned her overshirt. Her pokies were nearly offensive. I'm talking nipples for miles. This progression from mild to supermodel could have been the beer goggle effect. Or maybe it was more legit.