Those of you nerds that have been blowing up my website lately checking out what I had to say about Acropolis1989 are going to thoroughly enjoy Anna Kochanius.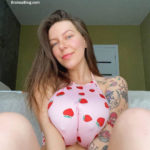 Unlike Acroplis, there's nooooo doubt Anna's boobs are all natural. They are gigantic. I am scared to take a guess at how big. Clearly they are like F-cups or something.
And they droop. Yes, they sag a little. Please do not write me and tell me I've lost my edge because I'm drooling over someone here on BralessBlog who has saggy boobs. I like 'em. Watching those things fall over and then jiggle when I put her on her back would be the highlight of my pathetic, loser life.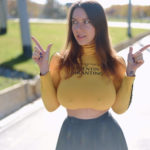 Nobody knows much about her. I hear that she is American, but with a weird last name like that ya gotta wonder. Inspecting her photos, it's hard to tear my eyes away from those whoatits, but the settings are nondescript enough to possibly be North America.
She is 5'4″ tall and has some grrreat blue eyes. She's supposed to be 23 years old.
Did I mention I wanna marry her?
Look, it's 2021 and life without 4k video is not worth livin. So here's a video of her in motion. Alll jiggly 120 lbs of her.