There are a lot of blessings one may have in life.
For instance, if you have big jiggly boobs, that's definitely a blessing. First of all, because they are awesome. Second of all, because you might be able to model, or catch someone's eye, or make money with them.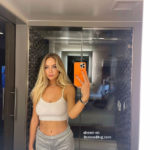 If, on top of your awesome bust, you are also pretty, well BAM! score that as another blessing.
Jessa Brooke was born with a silver spoon in her mouth in the blessings department. I say that because she is insanely hot, and because her jiggly boobs keep making her an internet star.
But it's kind of on again, off again with her. I think some of her accounts got deleted or suspended. That's frustrating for me, because I'm a pervert and I like creepin up on her. I'm sure it's frustrating for her, because she had like a quarter of a million subscribers on TikTok and then poof her account goes away.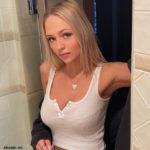 I think she is about 19 years old, and either lives or used to live in Arizona. Sometimes she goes by Jesssa Pugmire or Jessa Marie. I wish she would go by my doublewide trailer with her cleavage on display.
Jessa has some damn flat abs. She doesn't have tiny spaghetti arms or stick legs, so I suspect she works out to make her look that way. Orrrr maybe she was just born a goddess and she eats Little Debbie snacks and lays around watching TV all day.
Jessa absolutely, 100%, perfectly understands the art of the jiggle. She seems to make money by trying on and presumably be a spokesperson for various lingerie and bikinis. She doesn't just try these things on and wave to the camera. She stomps. She gives things a little bounce. Not just those big braless melons of hers, but you'll notice when she's wearing a thong and turns around for the video camera she jiggles those sweet cheeks.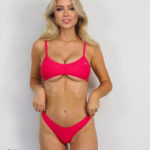 She has that long blonde hair and those smiling blue eyes and that makes it WACKO effective when she shakes her goodies. It's like some kind of boobie insanity drops down on us poor guys and we can think of nothing else but her flawless little body and her naughty little smirk. Is that a new term, "boobie insanity"? Probably, but I've been going crazy over boobs for like 70 years now.
Occasionally, when the planets are in alignment, and it's my luckiest of sunshine-filled days, Jessa crams those perky little c-cups into something that is way too small, and her boobies squish out the sides and overflow the top and I fall to my knees in a stunned and horny stupor. Do not be concerned for me. Do not approach me and try to help. Do not call 911. I'll be fine. This tends to happen on occasion. I am the sensitive type, and my heart can only take so much.
It wasn't 5 minutes after I made this post before one of the BralessBlog fans sent me a message asking if there are any leaked photos of Jessa, or if she's done any nudes. Whoa, slow your roll bro. I know she makes you horny enough to eat glass and hump doorknobs, but let's not outrun the interwebz just yet. You know about Haley Atwell's leaked hiney, we have wished mightily for a Teigen hineyhole leak, and even 9 years later people ask me to help them out with Jenn Kaelin's leak. I ain't got time for leaks, yo, I'm too busy lusting after the likes of Jessa.
Here is a Jessa Brooke compilation video that I think perfectly highlight's her jiggling boobs for which she is famous…

I think her latest socials are:
https://www.instagram.com/jessabrooke_/
https://www.youtube.com/c/JessBrooke/featured
https://www.tiktok.com/@jessabrooke777?
She kind of reminds me of a skinnier version of Kendra.