The BralessBlog video section always seems to be a popular destination. Lord knows I have struggled over the years to keep various videos up and running.
Probably the most notorious example is the Perky Dance Video. This was back in 2018, and an edited version (no nudity) received millions of views on Youtube before some internet nannies took it down. To this day it remains quite popular here on BB. Nobody knows who this girl is, but she is quite famous!
Anyway, enough reminiscing, let's see some new braless boobs in motion, shall we?
This gal has a great rack. She likes to bounce around on the back of a motorcycle while braless. And then she struts around town with enough sideboob wagging back and forth to make even a sleepy dog howl.
For this next video, we go back to the wonderful world of braless jumprope. Yep, remember that? I put together an Active Boob video a couple of years ago where we saw a (different) gal bouncing her boobies around while doing double-unders.
This little blondie might be Russian. She looks pretty fit, but honestly her butt looks a bit flat. Certainly not her boobs, though. They are quite curvy, ponderous, and watchable.
And finally, not a video but a photo for us to enjoy.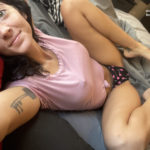 By now, if you're a regular visitor to BB, you know all about my favorite topic, which is braless crotch shots. We might, at this point, be justified in calling it an obsession. I don't exactly have a separate section for these, I tend to lump them all into the cameltoe category.
This little hunny rings all my bells. Her boobs are big and perky. Her nipples are hard as a rock and clearly pierced, poking perfectly through that thin pink shirt. She is spreading those deliciously smooth thighs, meanwhile she has her feet pulled together almost as if she is squeezing my fuzzy little head right into her crotch. You remember the scratch and sniff stickers from when you were a kid? Yeah well I'm practically scratching the screen and sniffing at her crotch when I look at this photo.