Funny how ordinary life tends to intersect with BralessBlog.
I heard a couple of things in the news this week that reminded me of prior posts here on BB. I guess it's not that unusual considering I'm a pervert and plenty of stuff makes me think of boobs.
First of all, there was the Hope Solo arrest. This prompted me to freshen up the post from several years ago. Go check it out, and let me know what you think.
Also in the news was a Paige Spiranac divorce heartbreaker. I don't mean to let the cat out of the bag (or the boobs out of the bra) here, so check out the Paige post for deets.
Just for fun, and because you guys tend to curse at me if I ever post anything on this blog without feeding your insatiable desire for braless pokies, I've included an "interesting photo".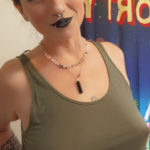 This girl looks a bit alternative-ish. The lip piercing, the nose piercing, the tats. Based on my very careful inspection, I don't think she has her nipples pierced.
The best thing about going braless in a tanktop is that the boobies tend to wobble around a lot. They are somewhat restrained by the loose-fitting top, but still free to bounce and sway.
Her ta-tas do seem to be a bit telescopic, which reminds me of my famous >boob calculation post from a few years ago. If anyone disagrees with my math, feel free to publicly call me out!