I like when I discover some amazing hottie that nobody else knows about. It gives me a feeling of superiority over the common riffraff. I take great pleasure in revealing such hunnies to the legion of fans here on BralessBlog. So sit down and shut up, cause it's about to get brawesome around here.
And yes, that's a new word I invented. It's a combination of braless and awesome. See what I did there.
Grace Charis can best be described as a 21 year old model. She mostly caught my eye because of her golfing. Well, I ain't gonna lie, she caught my eye because she is dog-slobbering hot, and she perpetually has rock hard nipples, and she tends to flaunt them 24/7. But doing all that with a golf club in your hands is unusual, and it turned my head.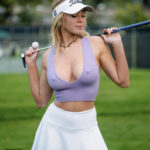 Now, I realize I had previously given the title of "best blonde golf boobs of all time" to Paige Spirinac. But Paige is in jeopardy of losing that title.
I think Grace is about 5'7″ tall and 120 lbs. My expertly calibrated boob vision tells me that she has c-cups. It's possible they are enhanced, but I'm leaning towards the all-natural diagnosis. Here's a video of her shaking those girls, and the bounce is what's pushing towards natural:
She was born in Newport Beach California, and she definitely looks like a blonde Callie gal. And some yummy blue eyes. She has 206k followers on her IG account. But that isn't terribly critical these days, because she also has an OnlyFans account with 436 posts and 53k likes.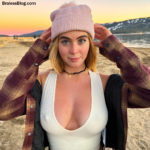 I don't think she does any nude stuff these days. Yet. But we can hope, can't we?
Grace is definitely thirsty. She is always running around pointing her nipples at the camera. She scrunches down for the golfball and flashes her crotch. She makes raunchy comments like "I like my putts slow and smooth", or "yeah I got an NFT – Nice Fuckin Titties". And who can blame her. She has decided to make a living off of her looks, and she definitely has the looks. So why not go for broke, swing for the fences, really get bucknasty.
Update:
Grace is still at it. And I'm still gawking. Such a cute lil' body this gal has. I may be in love with her crotch: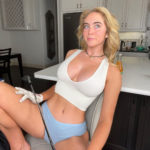 And these big braless boobs she's showing off make me weep huge golf-ball-sized tears: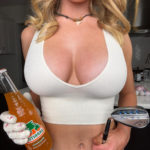 Did you know she's a gamer? I think she plays in lingerie or maybe a loose-fitting nightshirt with nothing on underneath and then streams some of her games. Sounds like a good way to make a few extra bucks if you're built like this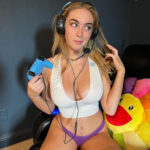 She did a bikini shoot recently with a professional photographer. The way she yanked her bikini bottoms up into the crack of her ass makes it quite difficult for me to breathe.