I have packed as much boobage into this video as I possibly could.
The file size is 800 Mb, and the video itself is 20 minutes long.
When I create a video just for the BralessBlog fans, and it is NOT one that I plan to put on youtube or some other mainstream site, it frees up my creative (perverted) juices and I can do whatever I want. So just a warning… this video has quite a bit of nudity. Lots of naked boobs, which if you ask me is just what the doctor ordered!
There are literally dozens of segments, and I won't take the time to describe them all here. But I will highlight some of my favorites.
Segment 1
I led off with this girl because she is so damn gorgeous. Look at that blonde hair and those blue eyes. She looks like a pretty mom next door you might drool over at the neighborhood PTA meeting. She looks innocent, but then -BAM!- she unleashes those boobs.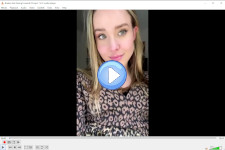 Segment 2
This gal has huge knockers. She has, over the years, learned a party trick. She can take a cup, jam it precisely between her boobs, where it is held in place by some delicious friction, pour something in it, and then gulp it down. She demonstrates, and we rejoice.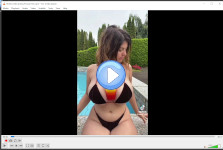 Segment 3
This girl's body is enough to make a grown man cry for his mamma. Her boobs are just incredible. They are so soft, squishy, and jiggly. Which she is happy to demonstrate for us. I keep coming back to this video, because… well, you know why.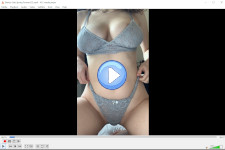 Segment 4
There was a discussion online about how difficult it can be to animate lifelike human movements, and how AI programs can help things look more realistic. Some pervert dropped this video into the discussion to illustrate how real-life jiggles are so hard to fake. This babe springs out of a pool, and the bounce, sway, and jiggle of her bare boobs are enough to convince me that the real thing will always be better.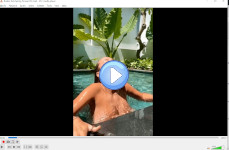 Segment 5
A cute babe bounces around bralessly down some city streets in a blue top. Her nipples are poking out in a way that almost certainly got her some attention.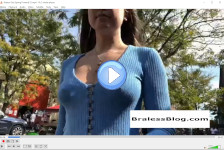 Segment 6
A fair-sized pair of c-cups get bounced around while shopping at the market.
Segment 7
This dark-haired beauty has a pair that must be H-cups. They are ineffectively strapped down with a thin bikini top, and when she starts dancing, all hell breaks loose.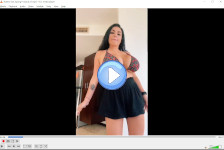 Segment 8
Some girls just want to please. You can tell this smiling beauty is one of them. She has a great rack that she is kind enough to peel right out of a mustard colored tanktop and bounce around in a breathtaking way.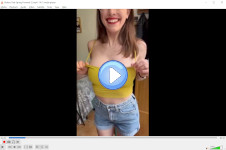 Segment 9
A cute little gal is waiting in the car while her food is being delivered, and she takes the opportunity to flash her unrestrained, pink-nippled breasts to her friend on the phone. Annnnd, oops, that clip goes viral for the entire world to see.
Segment 10
If you've seen some of my other videos, you know I enjoy watching busty gals get thrown around on one of those amusement park slingshot rides. Well, this segment doesn't disappoint. She is absolutely adorable, and we get to see her in some of her most candid moments, when the g-forces are taking her milky juicepacks and slinging them everywhere. Several minutes of terrifying fun!
Segment 11
This might be some kind of cosplay girl? She's showing off her costume, but oops it looks like she forgot her bra. Her boobs are sticking way out, and her nipples are unmistakable.
Segment 12
Pregnant ladies get a free pass. Carrying that big parasite around makes them uncomfortable. So if they want to stroll around their neighborhood in spandex shorts and a top with no bra and their nipples poking out, well they sure can. And this lady sure does.
Segment 13
Red sweater, big boobs, no bra, and a lady hurrying to get to little Johnny's parent teacher conference. This is a good combination, my friends. Jiggle city.
Segment 14
Speaking of party tricks, this babe is quite good at flopping her big jugs into a tank top, and then making them dance by yanking on the straps. Whoa, this is talent personified.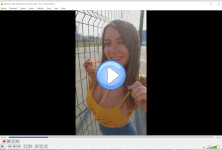 Segment 15
Holy shit. This hottie is mind-blowing. She starts out in a little sundress, but that don't last long. When she strips that dress off, we find the most perfect, all-natural pair of nipply boobies. Damn! The tiny green panties are simply a distraction from the rest of the perfection on display. Wait, did she just slap/smack here tits? This girl is 100% dedicated to demonstrating how pliable and willing she is to please us. My knees are shaking and weak. This is definitely a must-see segment.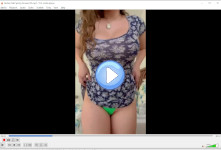 Segment 16
A little latin gal built like a toothpick except for a giant rack. Her dress does a great job squashing that cleavage up and letting it bounce while she moves.
Segment 17
Here's a true milf that just gets a wild idea and decides to give us a fantastic boob drop right in the middle of the store where she's shopping. This probably turned a lot of heads.
Segment 18
This crazy blonde does an entire video where she tries on tops specifically meant to show off her braless sideboob. God bless her, we love sideboob here on BralessBlog, and she gives us a megadose.
Segment 19
Soft boobies and big hard nipples. Enough said.
Segment 20
This girl is sitting in her panties on her bedroom floor, and she decides to give us a fun demonstration of how juggs bounce when braless in a Cinderella t-shirt. Opps, then they fall out of her shirt and I got a delightful little surprise.
Segment 21
The crazy body on this white bikini girl looks like a cartoon that came to life right out of my perverted mind.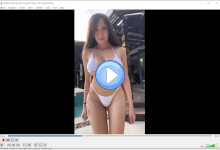 Segment 22
This is a pudgy little housewife who takes a few minutes to show her friends how to bake bread. Honestly, she probably wouldn't be so pudgy if she ate fewer carbs, but this is just me, the pot, calling the kettle black. Anyway, she happens to be doing this little demo in a t-shirt with no bra, and it is a very fun, voyeuristic extravaganza to watch her pokies bounce when she is innocently trying to cook.
Segment 23
This is a weird clip to include. The girl with big boobs has apparently been drinking, and she starts doing some kind of wacky stormtrooper dance, and then a drunk dude who is pretending to be a spider crawls behind her, scares her, and she collapses. I'm not sure my description is good enough, you're just going to have to watch the clip.
Segment 24
Girl walking in store with unfettered breasts. Bouncy. Awesome. Then she flashes us by the escalator.
Segment 25
She was jogging in a sportsbra before she decided to pop the girls out for our inspection. I give them an A, borderline A+. My thanks to her for squeezing them in such a way as to prove they have not been augmented.
Segment 26
Walking in the woods, bouncing in a loose tanktop.
Segment 27
You are going to love the little raisins this gal is smuggling in her top. Goofy tiktok thing that makes my perverted mind think its perverted thoughts.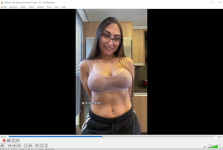 Segment 28
A little roadside dance in a perfectly tight, perfectly thin white top, with braless boobies that want to be in my mouth.
Segment 29
This starts out a little mundane with my girl sitting on her bad saying blah-blah-blah. She kinda looks a little frumpy, and it's easy to miss the fact that she's packing a pair of torpedos in her tanktop. But then she does the instant transformation thing, and ohmuhgod. The way her boobs are jiggling out of her top and the view of her flat stomach had me crying tears of joy.
Segment 30
I'm an old man, and not in tune with the ways of the world. I think this girl is using a dumb filter to make her nose all red like Rudolph. But the huge round melons in her white top are not filtered, and we don't truly have an appreciation of their heft until she grabs them and turns sideways.
Segment 31
Another transformation here, where a hottie goes from being all covered up by a bathrobe to spilling out of a low plunging dress. Daaaaang, the way her boobs jostle about in that dress is mesmerizing. This is a short clip, but very worth watching. If I was less lazy, I would've edited the video to replay this a few times, maybe even in slow motion. Magnificent pair.
Segment 32
Stop. Stop reading this and click the button and just buy the full-size video. Because if you don't, you will never experience the wonder of this clip. She is wearing a barely-there hooters top and orange shorts, but that's like saying a Ferrari is a car with an engine that makes noise. Lord have mercy, this girl is defying gravity and splitting the seams of her clothes. See those perfect jugs that just can't be contained by her top? They coming out the sides, threatening to blow out the elastic at the bottom, and jiggling hypnotically. And even her crotch is straining at those shorts like a shark trying to get to its next victim. I should charge one meeeelion dollars for this video just because of this clip alone. Truly epic.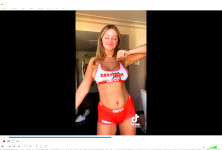 Segment 33
In order to get through security, all the people in this line had to basically get patted down and groped by this female security guard. It feels very naughty watching her poke around and even peer down people's shirts!
Segment 34
Sunshine, tanned boobies, bikini.
Segment 35
A particularly naughty look on this girl's face as she purposely stomp-walks in her bikini to tantalize us with her boobs.
Segment 36
Asian-looking gal with nice boobs.
Segment 37
More braless shopping in a store.
Segment 38
Little perky college coed shows what she was wearing (see-through?) to make all the guys in class stare at her.
Segment 40
I includes this because I just couldn't get enough of this girl's nipples. They are sort of dark in color against her creamy white skin. And they look quite industrial, like they could take a real chewing and come back for more.
Segment 41
Pokies in a sporty top and cycling shorts.
Segment 42
Motorcycle rider jiggles braless.
Segment 43
Busty lady walking seaside.
Segment 44
Big jugs bouncing during an outdoor exercise session.
Segment 45
Another braless lady walking on the sidewalk. At one point she exposes enough sideboob to make me gasp and pray for more.
Segment 46
Blonde gal trying on some stuff and doing some modeling. The jiggles are nice. That green dress plunges so low, her tits are about to fall out. Hope she doesn't sneeze.
Segment 47
If these boobs are fake, my compliments to the plastic surgeon because he's a goddam artist. The perk and the nipples and the everything… wow.
Segment 48
What is it with me and the braless shopping clips today?
Segment 49
Here's some runway action where the models ain't wearing much. Lots of different body types represented here.
Segment 50
Massive jugs in a trendy top that looks like an ace bandaged wrapped with key open areas. This girl knows she has something for boys like me.
Segment 51
Goofy tiktok thing where she's wearing sunglasses, bunny ears, and a bikini top that is letting her boobs fall out the side. Uh, and the bottom. I'm surprised this girl can even breath with jugs like that sitting on top of her lungs. You can't fully appreciate this until you see her in motion.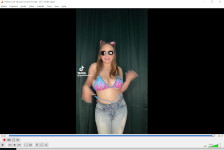 ****
You can buy the full-length, full-resolution video here:
http://www.bralessblog.com/downloads/braless-gals-spring-forward-22-download