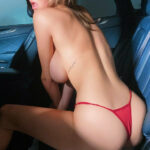 I take great delight in introducing you wonderful folks to new gals. Especially when they are busty and like to show off.
Ashley Tervort 100% meets those criteria.
And hey, I'm not going to make you wait for it. Ashley's boob size is 36H.
Yes, those things are gargantuan. But not obsceneley so. The magic happens in her full measurements. She's 36H-24-36. That tiny little waist and ultra flat tummy makes those boobs pop out like Christmas presents blowing out of a canon. She stand's 5'10" tall, so she's no shawty.
She was born in 1999 so she's 23 or 24 years old as of right now. She started out as a nanny. Cue every wealthy dad's hottest fantasy. Drooling on the babysitter, sneaking into the broom closet with the nanny.
It wasn't long before some family photos with her (and her boobs) in the background started gaining notoriety, and then cute little Ashley decided she could make a whole lot more money ditching the nanny gig and modeling full time. And it means millions a year for her.
There is some speculation that she swiped another gal's husband. I would believe that, as that body was made to break hearts.
Also, her face is a little on the exotic side. She may have some Asian roots on one side of her family tree.
She mainly does tease stuff, with those massive titties driving men and women alike completely insane. But there are rumors that before long we'll get to see Ashley nude. I'll admit that I've seen some nipslips, and her chunky pink nipples are as cute as you are imagining.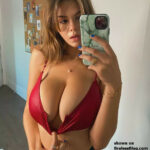 See how in this pic of her pulling down her red halter top to show off that impossibly deep cleavage she is very slightly parting her lips? Yeah, she does that. She does the whole thing. The "oh my, big man, won't you come spank me and chew on my nipples" thing.
And it works. She makes me want to hump a telephone pole or even a rusty doorknob.
She is no relation to Ashley Greene. And I can't honestly decide on whether I like her boobs better than Rose Hart's.