There is no point in trying to deny it.
I am weak in the knees. I am dizzy.
When I saw this photo, I was so shocked that I gasped and aspirated some of the Peter Pan Peanut Butter mixed with cheetoh nuggets.
I wept, and thanked the heavens, and prayed that this gal would be delivered to my lap. Or maybe to my kitchen table so I could stare creepily at her and then nibble on her female parts.
No need to move beyond her perfect abs, but if you slide up just a little bit, you will of course run into those incredible braless boobies.
How did those nipples get so hard? Did she pinch them? Is she frighteningly cold? Does she need help warming up? Help from my lips?
Hey now, I can't help but also point out… that fabulous crotch.
That little bulge in her white panties drives me wilder than a tazmanian devil on meth. I can practically smell it and taste it.
Yes, alright, I'm not done. I'd pull her hair too.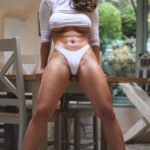 I may have pointed out a few other crotches in the past. Don't be shy about rooting around and checking them out 🙂