I know many people are dealing with the global pandemic right now, but some folks are looking for distraction and entertainment and apparently BralessBlog is delivering. It's been interesting how many visitors the website has had the last few weeks. Would you be surprised to know the website had over 15,000 page requests yesterday?
The most popular post yesterday was my Christmastime downblouse post.
The most popular category on the site was of course the video section. After getting booted off of youtube for "violating community standards" (gimme a break), I currently only have 3 publicly accessible videos, which you can find via that link. You can also look through some of my premium videos and purchase them from this page. If you are interested in a discount on a particular video, or paying a significantly reduced rate to access ALL of them, just contact me and we can work something out.
One post from 2013 that shows up as being popular, which I find sort of funny, is this braless obscene gesture post.
In an article about "breast prisons", the NY Post tells us all about why women are going braless at work. With the virus, more women are working from home than ever, and you can bet they are leaving their bras in the closet now!
Also in the news, Lisa Rinna who is like a zillion years old keeps posting bikini photos and people keep trying to figure out how she stays in such great shape. Duh, I'm guessing it's cosmetic surgery, since her lips look so fake and plasticy that she may have pulled them out of a Mr. Potato Head box. Anyway, I updated this post, because why not look at some more red carpet braless boobs?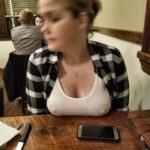 And finally, I'll include a photo. Because nobody should have to come to BralessBlog and read a lengthy post without enjoying an embedded pic. In this case, we have the joy of some suppertime pokies. Are you suddenly hungry for some cereal with milk? Maybe a milkshake? Or perhaps some milky ice cream? Yep, no wonder. This gal's nipples make my mouth water and my lips pucker up. I like the way she has them sitting on the dinner table like it's a boobshelf.