Freakin' slaving away. That's what I do for you guys. I work my ass off to find the rarest and hottest stuff so you can click and swipe your way to happiness here on bralessblog.
And it took some work to find these pics of Anny Kendrick with her pokies on display.
Now "work" I guess can be taken lightly. I didn't sweat or strain, and the only callouses I built up were from fapping my flipper while drooling over Anna.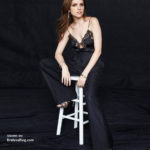 She is a tiny little thing, as she's only 5'3″ tall. The interwebz swear she has b-cup boobies, and I guess maybe that's right, but they are on the big side of B's. In some movies and pictures I see them sticking straight out. Ordinarily I would take that as evidence she is enhanced, but I'm 90% certain she's all-natural.
I'll tell ya what's freaky on Anna. It's her teeth. She has giant, incredibly flat and straight fluorescent white teeth. Every time I see her with a partial smile I think she has dentures or something in. I swear she might be a mouth breather, because she always has those teeth on display.
Anna was in Pitch Perfect with a few other hotties. If I weren't so lazy, I would post up some host stuff from Anna Camp or Hailee Steinfeld. Maybe later.
You could always check out some different Annas… like:
Annalynne Mccord
Anna Paquin
Sandra Ahrabian (isn't her middle name Anna?)