You have to give me credit. I do a great job of breaking news about boobs to you.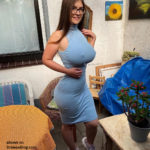 I introduced you to Kochanius. You had no idea who Acropolis1989 was until you pulled your pants down and visited BralessBlog. You were walking around ignorant and uninformed until one day you saw Kendra Rowe's profile, and since then you've never been the same.
Well, today is another one of those days where I run somebody new by you. It's back to boob school for us, and we looooove this kind of learning.
This gal's name is Leicht Perlig. I've heard some conflicting information about whether she is Russian (most likely) or German. She is 5'4″ tall and maybe 130 lbs.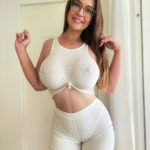 She has accounts all over the interwebz. Instagram, Tiktok, onlyfans, etc. I may eventually post up the links here, I'm just being lazy for right now.
She has some massive boobs. And ohmygod her nipples. Those things stick out farther than the width of her thumb. I mean, she could put somebody's eyes out with those things. And yes, there are some nudes floating around.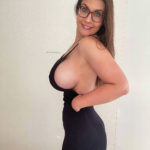 Interestingly enough, I have actually seen photos of her before the, ahem, enhancement. Her boobs are well done, and don't look terribly fake. But they were quite small before.
Because I'm awesome, I've also put together a Leicht Perlig compliation video.