You have to give me credit. I do a great job of breaking news about boobs to you.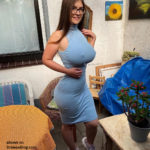 I introduced you to Kochanius. You had no idea who Acropolis1989 was until you pulled your pants down and visited BralessBlog. You were walking around ignorant and uninformed until one day you saw Kendra Rowe's profile, and since then you've never been the same.
Well, today is another one of those days where I run somebody new by you. It's back to boob school for us, and we looooove this kind of learning.
This gal's name is Leicht Perlig. I've heard some conflicting information about whether she is Russian (most likely) or German. She is 5'4″ tall and maybe 130 lbs.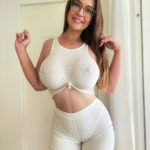 She has accounts all over the interwebz. Instagram, Tiktok, onlyfans, etc. I may eventually post up the links here, I'm just being lazy for right now.
She has some massive boobs. And ohmygod her nipples. Those things stick out farther than the width of her thumb. I mean, she could put somebody's eyes out with those things. And yes, there are some nudes floating around.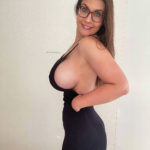 Interestingly enough, I have actually seen photos of her before the, ahem, enhancement. Her boobs are well done, and don't look terribly fake. But they were quite small before.
Because I'm awesome, I've also put together a Leicht Perlig compliation video. Edit – no surprise, youtube nannies cancelled me. I've added a different video here…
Update:
Okay, okay, I will update Leicht's post with some new stuff. Geesh, you guys don't have to get nasty!
Back by popular demand, I guess you could say.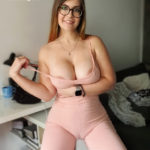 First, we should definitely cover her crotch.
I simply cannot pass up a busty gal with her labia bulge on display. And this one certainly goes beyond a bulge, here Leicht has parted her lips with a seam and we've moved on into the realm of a true cameltoe.
Plus, you can see just a hint of nipple above that tanktop.
The glasses add a bit of a nerdy flair don't they?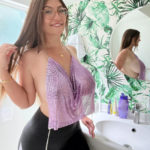 This shot was on her instagram account recently. Which, by the way, has 2.8 million followers as of today (Jul 9 2022). Think about that for a second.
There's a lot to get excited about in this shot.
Those big perky breasts are the obvious draw. Those nipples that are poking through the thin material and could put a fella's eye out. But it's a nice touch with the mirror over to the side. As I mentioned before, mirrors are my favorite braless tool.
Grrreat sideboob in that mirror.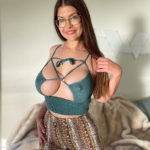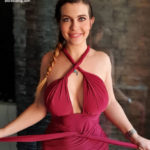 Update 2:
I liked this picture of her squeezing those big melons together, with nipples that look like they could cut through solid steel!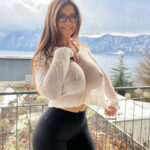 And how about this, where she's in a tanktop and some yoga pants? Wow, those pokies are so epic. Don't you think she could hurt somebody with those?