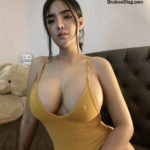 I initially thought this girl was Asian. After all, I am an ignorant American.
However, I have changed my mind and decided she's Persian. I am just OCD enough to be annoyed by the twisted strap on her top. Luckily, her clearly protruding nipples soothes and calms me.
Her melons look very wide. Much wider than her head. I give her extra points for this.
Wowzers, some bodies are just made for sin. This girl is thick where she needs to be, and thin where she should be.
Giant rack, with her nipples saying hi. Thick booty and thighs. Tiny waist. I think her face is pretty, but honestly I can't say for sure I made it around to looking at her face.
I can't explain those gigantic knee socks and construction boots. Maybe she likes to do drywall as a side job?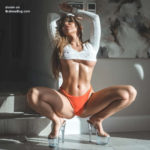 You can probably guess what I'm thinking about as soon as I see this photo.
I can just imagine her squatting just like that on my pelvis. Regardless of those braless boobs, you can't ignore her crotch. Or… maybe squatting on my face. Cause I'm a dirty old man.
She seems to be very worked up, and has a semi-orgasmic look on her face. I had to look pretty hard allll over the website to find another post that referenced orgasm.