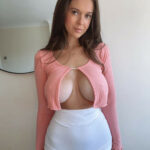 It's about time we (un)cover Rose Hart.
She tends to go by Rose Harrt, and has around 200k followers on Instagram. She's not as popular as some of the models I talked about recently, but she will be. Why? Because: boobs.
Yep, that's why she landed here on BralessBlog. Those big, gigantic natties.
Let's do a quick Rose Hart Bio:
26 years old
lives in England
claims to be all natural, and very rarely wears a bra
works in veterinary medicine, big animal lover
self-professed introvert
likes to do yoga and take her dog on long walks
She does nude stuff, and I'll admit to having a few of those little stored away. And I'll go ahead and warn you that as fine as her breastacles are, her nipples are even more epic.
Pretty face, great smile, long hair, and those boobs will take her far. I think she is doing her own membership thing, and I wouldn't doubt that she will make a fortune at it.
I don't mind a curvy woman, and this gal has curves. She hasn't been starving herself into a waif, and I keep drooling over those hips and that butt too. And I included a few photos so that you folks wouldn't feed deprived.
Update:
I can't seem to leave Rose alone. I thought I should add a few more recent images of her yummy boobs from different angles. I'm sure I'll get no objections.
This one of Rose in a thong bodysuit is excellent for a couple of reasons. First, you can see her unsupported sideboob. If I stare really hard, I can see just a hint of her nipple. Her hips are really big and squeezable, and that ass, ohmuhgod.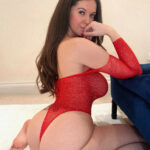 I'm not sure if this outfit was meant to be about an Easter bunny or a playboy bunny, but either way I give it my stamp of approval. That cleavage is so deep, I could fall down in there and get lost.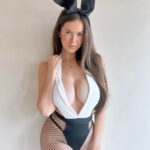 Speaking of cleavage – this blue top. Dayum. Her titties look so incredible here. I like the way she has them sort of strapped together with the criss-crossing laces. And you can see her nipples poking out against the fabric, so dreamy.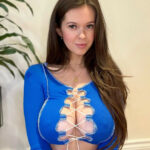 You know what this picture makes me think of? It makes me think of Rose doing doggystyle. The way she has that ass poked out, and thinking about her boobs wobbly back and forth while I bonked her from behind? Oh my, yes please, I will take another.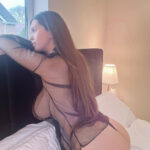 More doggystyle fantasies…
Update 2
Ok, alright, be patient. None of us can live without Rose, and we all want to see more. So here we go…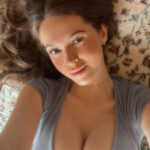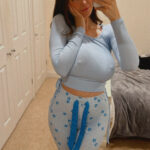 size-thumbnail wp-image-6702″ />