Ahh, how refreshing: it's braless boobs.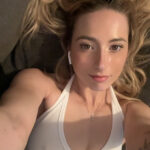 This gal decided to lay down on her couch after stripping off her sweatshirt and twisting her nipples until they sprang up like little erotic antennae. Could she be any prettier, with her hair all spread out and her cute little smirk? She reminds me just a little bit of Jessa.
Those boobs look a little like b-cups, I wouldn't be able to tell for sure until they got shoved in my face for a proper measurement.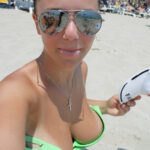 Is it possible to have a downblouse but in a bikini top? I think this chick has successfully pulled it off. She has yanked the straps of her bikini down and she is so close to freeing those nipples that I'm over her hyperventilating. PS – semi-epic bikini post ->here.
The way that she is sticking her tongue out makes me think her vajayjay is clean shaven and waiting for a special kiss or two. Not sure why. But I dig the tanlines.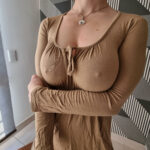 Don't these boobies look exceptionally soft to you? No tough plastic add-ons here. If she were to shake them, I think we would see an epic boobquake.
The material that brown top is made out of is awesome. Very thin, and well suited for showing off her nipples. Do you like that little cutsie tie in the middle of her cleavage? Underneath it is enough boobie crack to make me happy for a solid year to two.
I know we all love cleavage.
What the heck??