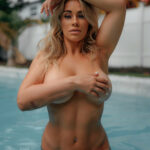 Mixed martial arts seems cool until I think about some smell sweaty guy squashing me, and then I hyperventilate and cry for my mamma.
Women's MMA doesn't really illicit that response, but has it's own set of problems. Seeing some hot gal get her nose cracked over to the side of her face and bleeding all over herself just isn't hot.
There have been plenty of hot female fighters though. The promoters aren't dummies. They know more guys will watch if the gals are smoking hot.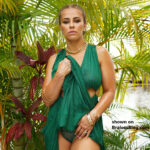 Ebanie Bridges comes to mind. Ronda Rousey ain't bad.
And then there's Paige VanZant.
Those of you who are purists will argue she wasn't necessarily the world's best fighter. In her career, she's fought 13 matches. She won eight, and she lost 5.
More importantly, she won her boobs. Or bought them, rather. In 2018, she acknowledged that she had her boobs done. And I sure do like them.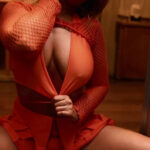 Once she started modeling on her own, she has made way more money than she ever did fighting. But I might argue that fighting made her famous, and then modeling allowed her to capitalize on that fame and get rich.
I am semi-obsessed with her little petite body. She's 5'4″ and around 125 lbs. She's muscular – check out those abs!
And yes, she poses nude. And with dildos. And butt plugs. And doing lesbian stuff with girls. And dirty stuff with her husband. The nudes are out there, but ya'll know I try not to get that explicit here on BB.
Not to be confused, of course, with the other Paige, which is a whole other level of boobs.