I'm all used up and have no interest in posting anything witty. Except, dang, this girl is making my jimmy jump.
Look at those boobies. Look at that expression. It says:
I have gigantic DD-cup boobies.
Sit right there and watch this.
I'm taking my bra off.
I'm putting on this incredibly thin, lacey white blouse.
Oh wait, are my nipples poking out?
Let me pinch them. Mmmm.
NOW my nipples are poking out. You can't look away can you?
Who can blame you.
Want to see these in motion.
I'm just gonna walk over here.
Oops, wait, I forgot something, let me walk back over here.
Bouncy bouncy boing wobble.
Yessss, I know, my boobs like to shake around a bit don't they!
Let me bend down and adjust my high heel.
What's that? You are Squeaking. Sounds like you have something caught in your throat, or maybe you're having chest pains.
Seriouisly, that cleavage is wicked, and her erect nipples make me cry mamma.
The casually messy hair and the weepy "I'll do anything to please you" look just make me melt. I think I'm gonna ask this girl to marry me. Or at least ask her to wash my mailbox in a bikini.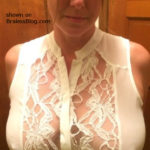 Another blouse you might be interested in:
http://www.bralessblog.com/2012/07/28/annalynne-mccord-pokies.html
And just because the skies are gray and the nips are hard today, we should look back at
http://www.bralessblog.com/2009/07/06/shades-of-gray-pokies.html
Screw looking at the blouse, can we look down the blouse?
http://www.bralessblog.com/2016/12/06/downblouse-pictures-are-instinctual.html