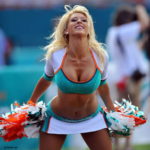 I guess I'm a little surprised and disappointed that we've enjoyed so few cheerleaders here on BralessBlog over the years. I found a post here, and another one here. So for today's update/discussion, I've thrown in a photo of what can only be an NFL cheerleading goddess. Maybe the Miami Dolphins? The way she has her head thrown back and the way those big soft boobies are squashed together by her sports bra makes me hungry for some dolphin.
I fixed the images on this Maria Menounous post, because her boobs are too delicious to ignore. And I added a few new photos of her in a dress here.
I've always had a thing for hot chicks in a dressing room, so I added a few pokies pictures to our dressing room post.
Also, Kate Beckinsale has been on my mind lately. I wish she had been on my lap, but alas she thinks I'm a weirdo. I added some grrreat photos of her in a flimsy braless getup at the bottom of my original post, which appears to have happened back in 2011.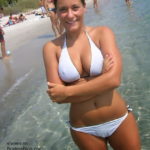 This little cutie in a white bikini seems to be a little shy, and is giving us her "Are you looking at my boobies?" smile. Those broad, flap hips tell me she is ready to make some babies, and nobody in their right mind can argue with those soft boobs and pert nipples. I don't think her swimsuit is wet. Once it gets wet, all hell is liable to break loose.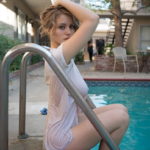 Speaking of wet white things, this gal sitting poolside in her wet white t-shirt is enough to make me blubber like a stoned whale. I swear I don't think she has anything on under this shirt. Her face is impossibly gorgeous, her hair has that just-had-sex kind of messiness, and those boobs, especially with the way she has her arm over her head, are so perky it's painful. All in all, this girl and this photo might bring braless to a whole new level, and you and I are lucky to have had this erotic breakthrough.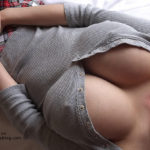 I'll leave you with one more today, because: why not. This gal has laid down and put her soft cleavage on display in a very unbuttoned gray shirt. The way her boobs sort of flatten out and droop to the side make me think she has some all-natural yumminess. Not that I care either way, just saying. You and I both know she pinched the crikey out of her nipples to make them stand at attention before she snapped the photo. I kinda want to lick them, and do other fun things to them.