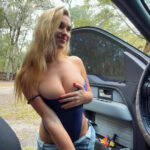 Kayla Simmons is a goddess who played college volleyball back in 2013. Since then, I guess she has just been hanging out, "modelling", and flashing her boobies around.
Kayla isn't a gigantic lurch-lady, as she's only 5'9″ tall. I'm 99% sure her boobies are real, because they are so squishable. In many of her photos and videos, she has them bound up in various pieces of clothing or she does the handbra thing, and no enhanced boobs are that soft and squishy.
It's funny how so many hot models these days are washed up athletes. Turns out it's really hard to make millions as an athlete, but if you're hot enough you've got a great shot at doing it with your body. Grace Charis, Paige Spiranac, and even some Crossfit gals come to mind.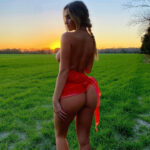 Her favorite movie is Step Brothers, so clearly she has a raunchy sense of humor. As great as those boobs are, her butt is a definite A+. She does some nude stuff, but you have to catch her on the right day, and it's mostly just implied nudity. She has a million followers on her Instagram page, so dudes like us are chomping at the bit to see more of her.
And a video, try not to stare at her boobs: