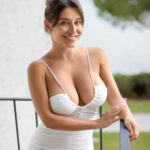 Estephania Ha was born in Germany, which helps explain the somewhat unusual name.
She burst on the scene in 2019. She was born in 1995, so at that time she was 24. I think she did some stuff for a European version of Playboy, but I haven't found a ton of info on that.
She started milking the social media scene with hot photos and short video clips that got progressively raunchier. She built up quite a following. Her Instagram shows she has an incredible 2M followers, but it's now marked private and completely devoid of content.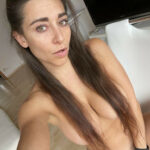 She eventually turned to that famous "fans" site that we all know too well these days. And believe me, little girlyman, she lets it allllll hang out and holds nothing back.
Not only does she get nude, Stephania frequently posts masturbation videos, and seems to love doing that to herself while using a butt plug. What's up with that? Does she enjoy the feeling, or is she just milking the perverted stuff because it drives more subscribers and more profits for herself? I don't really care either way, but I'm curious.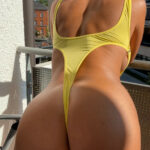 Some websites list her as 5′ 2″ tall and 130 lbs. I've seen claims that her boobs are natural, and I can promise that's a big negatory. They are enhanced, but they sho' do look nice. Great nipples too.
I take great delight in finding new-to-me braless hotties and introducing them to BralessBlog readers. I wanted to add Estephania to the list for sure. The most popular right now, based on how many clicks they are getting and what I'm hearing back from you folks:
1) Rose Hart
2) Leicht Perlig
3) Ree Marie
4) Louisa Khovanski
so go check them out while you're at it.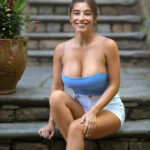 Steph's tits are basically goddam magnificent. Her nipples are quite rough, three dimensional, and prepared to gouge your eyes out and leave deep scratches on your schnoz while doing a good motorboat.
She has the widest smile. It actually reminds me a bit of Cameron Diaz. Am I right? Hit me up and tell me if you think I'm crazy.