Nobody likes to get stuck in a rut.
We all like to look at different/new babes. And I quite enjoy introducing BralessBlog readers to new chicks that are emerging stars.
A couple of examples, along with the number of folks who checked them out here on BB in the month of March:
1) Leicht Perlig – 4,148 visitors
2) Acropolis1989 – 3,599 visitors
3) Kendra Rowe – 2,992 visitors
4) Grace Charis – 2,846 visitors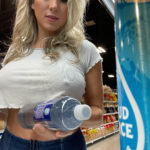 Wellll, do I have something special for you today.
Some of you are quite fond of mature ladies. The Braless Milfs section is one of the most popular ones on the website.
You need to know all about this lady Ree Marie. She goes by a few different handles these days, including txreemarie_disruptive on Tiktok and Instagram.
She has a modest 34k followers on IG. It's Tiktok where she's blowing up the scene, with 1.2 million followers and over 10 million likes.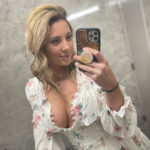 And of course she has an Onlyfans. It costs $25/month to join, which seems pretty steep. That gal has a high opinion of herself!
As she should. Because, wow, those boobies.
I cannot quite decide if she's had a boobjob. I'm about 70% sure she has. I've seen some older photos where here boobs look smaller. In most of her recent Tiktok vids, they look pretty big.
Ree Marie does have some weird stuff going on with her belly. Maybe they are just stretch marks, maybe she had a bad tummytuck. Maybe that explains her need to get out there and seek attention via posting raunchy stuff on the internet.